Georg Eckert – A short biography
Georg Eckert was born in Berlin on August 14, 1912, to leftist liberal parents. As a child he was a member of the Socialist Workers' Youth Party (SAJ) and later, when he was old enough, of the SPD. He also became a member of the Reichsbanner Schwarz Rot Gold (Black, Red, Gold, Banner of the Reich), an organization with the goal of protecting the new Weimar Republic. In 1931, he matriculated at Friedrich-Wilhelms-Universität Berlin to study German. The program of studies could be organised 'freely', and the decision to follow a particular professional path was not required until the final exams or registration for a PhD dissertation, so Eckert also took courses in history, geography, ethnology and pedagogy. Among his teachers in Berlin were the educational reformers Siegfried Kawerau and Fritz Karsen, as well as Ferdinand Lassalle's biographer, Hermann Oncken, and the Marxist-oriented Arthur Rosenberg.
The political climate of the Weimar Republic inevitably drew the young Georg Eckert, who had been chair of the Socialist Student Body Berlin since 1932, into open opposition to the National Socialist groups campaigning at the university. He secretly left Berlin – even before the SPD was banned in June 1933 – for the university in far-off Bonn, where he matriculated in the philological faculty in the summer of 1934, specialising in ethnology. Under Hermann Trimborn (1901–86), an expert in pre-Colombian American studies and ethnology, he completed his doctorate with a thesis on Micronesia in 1935. Eckert passed his first state examination in 1936 in the subjects of German, history, geography, pedagogy, and ethnology. Since the career perspectives for ethnologists – even with a PhD – were quite dim, Eckert decided to complete his Referendariat (teacher traineeship) and transferred back to Berlin. In order to finance this unpaid phase of his education, he applied for a publically advertised position at the Höhere Luftwaffenschule (Higher Air Force Training Academy) in Berlin-Adlershof, where he taught on the side until passing his final teacher qualification exams in 1938.
In Bonn in 1934, Eckert entered into the student division of the SA (Sturmabteilung), as well as the National Socialist Students' Association (NSDStB) and the fraternity 'Rugia Suevia'. He also had himself baptised in the summer of the same year. He already possessed papers to go into exile in Switzerland, but gave up this plan because of his parents' bad health. Nevertheless, these actions all seem to validate Eckert's later claim that his socialist past necessitated a disguise. Eckert also joined the NSDAP, not as one of the 'March casualties' (Märgefallene) of 1933 but during his preparations for teacher qualification in 1937. It is unclear whether this was also a disguise, or whether he faced pressure from his school director, or whether he made the decision simply because it improved his career opportunities as a teacher. In any case, he remained at the lowest ranks of all National Socialist organisations he entered; in 1946, as part of the widespread denazification process, he was grouped into Category 5 ('disencumbered').
As a young academic, Eckert carried out his military service from February 1940 to February 1941 during the French campaign. After being drafted, he signed up for a crash course in meteorology and, following the German occupation of Greece, was sent to Thessaloniki in July 1941 as a Wehrmacht functionary, where he was put to work at the weather station. In September 1942 he became the station's director. From this position of authority, Eckert was able to help the population: He spared many Greeks and Sephardic Jews from being sent to concentration camps and helped others to flee from the German occupation zone into the safer Italian zone. He was also able to prevent the destruction of several villages, planned as retaliatory acts by the Wehrmacht.
Eckert's tasks included the building of meteorological stations and the evaluation of weather data. He combined these duties with ethnological fieldwork and used his evenings to read various ethnological articles on Greece and to write his Habilitation thesis on 'The Cult of the Dead and Belief in Life in the [pre-Colombian] Cauca Valley' (Totenkult und Lebensglaube im Caucatal). During a furlough in 1943, the 31-year-old Georg Eckert qualified as a lecturer in pre-Colombian American studies at Bonn University – a requirement that brought him one step closer to his career goal at the time, to become head of museum educational services (Museumsdienst). His doctorate and Habilitation thesis can be viewed as representing a diffusionist approach to scholarship on cultural circles (Kulturkreislehre) and cultural history. However, the language of these two works does not reflect a penchant for the (racial) ideology of National Socialism.
Through his fieldwork, Eckert also made contact with Greek partisans. The failed assassination attempt on Hitler on July 20, 1944, provided the impetus for Eckert and some of his comrades to desert the German army and join the Greek People's Liberation Army (ELAS), the military branch of the National Liberation Front (EAM). On the eve of the Greek civil war, in February 1945, most of the group, including Georg Eckert, gave themselves up to British troops in order to avoid being caught between the fronts. The British intended to take Eckert to London, planning to send him back to Germany to help with democratic reconstruction. But on the way there, in Rome, he contracted a life-threatening lung abscess and, the war now being over, was transported directly to a military hospital in Goslar where he arrived in August 1945.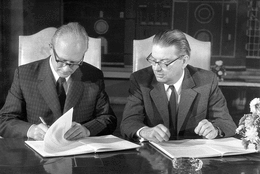 Education, Eckert was convinced, cannot and may not revolve around examples from the history of elites; history must include the broader population and their cultural, economic, political and social developments. This philosophy also tied in to the credo put forth in his teaching curricula that history education should enable young people to form their own, independent views. His position became a central motif of the Internationales Institut für Schulbuchverbesserung (International Institute for the Improvement of Textbooks), founded in 1951, as well as the international textbook conferences that he initiated and organized. By the end of the 1970s alone, more than 150 conferences had taken place with the goal of identifying hidden antagonistic stereotypes and prejudices in history and geography textbooks and contributing to mutual understanding through the revision of these teaching materials. Understandably, the focus of the first few years was directed above all toward the former enemies of Germany. The 'Franco-German Agreement on Controversial Issues in European History' (1951) and the 'Recommendations for History and Geography Textbooks in the Federal Republic of Germany and the People's Republic of Poland' (1975) still represent milestones of international reconciliation.
From the mid-1950s onward, Eckert published his first historiographical works, beginning with a study on Wilhelm Bracke and Social Democracy in Braunschweig. Eventually, the history of the German workers' movement in the nineteenth century became Eckert's primary area of research, making him one of the first West German historians devoted to this topic after 1945.
Despite – and also because of – his strong drive to engage in social history, Eckert never achieved a prominent position in the scientific community. This is also due to the many different activities in which he was constantly involved. In addition to his own publications, he remained committed to his teaching obligations and served as editor of the Jahrbuch der Friedrich Ebert-Stiftung: Archiv für Sozialgeschichte (Yearbook of the Friedrich-Ebert-Stiftung: Archive of Social History), which he initiated, as well as the Zeitschrift für Ethnologie (Journal of Ethnology), which he founded in Braunschweig in 1949/50 and led until 1965. Above all it was the Internationales Schulbuchinstitut (International Textbook Institute), headed by Eckert in a voluntary capacity, that required his time and energy. Simultaneously, he became president of the German UNESCO Commission in 1964. These two endeavours, the Textbook Institute and UNESCO, meant that Eckert was constantly travelling, a duty that he fulfilled despite his generally poor health and frequent illness. His restlessness, however, was not driven by any kind of morbid ambition. Rather, he was motivated by the conviction that international understanding could never be achieved without trustworthy cultural foreign policy, nor stable democratic conditions without civic education. Georg Eckert died on January 7, 1974 at the age of 61, during a lecture on the history of the workers' movement.
Translated from an abridged and updated version (March 2016) of Heike Christina Mätzing's essay: 'Georg Eckert und die Anfänge des Archivs für Sozialgeschichte', in: 50 Jahre Archiv für Sozialgeschichte, ed. by Friedrich-Ebert-Stiftung, Gesprächskreis Geschichte, vol. 92. Bonn 2011. See also: 'Wissenschaftler und Botschafter der Völkerverständigung. Georg Eckert (1912–1974) zum 100. Geburtstag', ed. by Friedrich-Ebert-Stiftung, Gesprächskreis Geschichte, vol. 102. Bonn 2013. Heike Christina Mätzing is currently working on a biography of Georg Eckert.